VHF TV Antenna 170-230 MHz – Double Dipole Panel, H90 Horizontal / V90 Vertical Polarisation
Our linearly polarised VHF TV 170-230 MHz Antenna is a Band 3 Double Dipole Panel. Developed as a versatile, robust and reliable horizontally or vertically polarised module, it forms the basis of a range of standard antenna arrays.
Custom designed radiation patterns are available as required.  Double Dipole Panels conveniently mount on either new or existing structures. Either horizontal or vertical polarisation versions are available.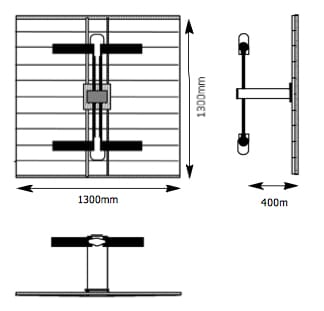 Horizontal plane panels mount on square structures. AlanDick also offers the H-120 panel for triangular structures.
TV Antenna Design
The radiating elements made of 76mm (3″) diameter hot dipped galvanised steel tube. Mounting is a quarter wavelength in front of a galvanised steel screening frame.
The screening frame design also uses tubular main members with screening bars in a welded construction. This provides a very robust and efficient screen combined with a low effective wind area.
Moreover, the main members provide a versatile means of fixing the panel to a variety of structures using standard clamps without the need for complex and expensive steelwork.
Finally, for pricing and more information, please call us now. Alternatively, please leave a message via our Contact us page. We will be in touch as soon as possible to discuss and help plan your project requirements.
VHF TV 170-230 MHz Antenna Datasheet Download:
Antenna VHF FM 88-108MHz Double Dipole Panel H90 (273 downloads)